Sidelight Window Treatments In San Jose
Sidelights are the tall, slender windows on either side of your front door. They let light into your entry, give you a view of your front porch, and add an attractive decorative embellishment for your home. But when left bare, they can also allow for an unwanted view into your interior. Fortunately, Sunburst delivers the perfect answer with our custom sidelight window shutters in San Jose.
Sidelight Window Shutters In San Jose Are The Perfect Solution
No option meets your needs better for your entryway than our sidelight window shutters. They'll give you the privacy you want with the added perks of exceptional light control, durability, and distinctive appeal. Whether you choose our stained hardwood or best-selling Polywood, the right shutter perfectly coordinates with your front door, trim, and interior design.
Entry Door Sidelight Window Shutters Give You Better Privacy
If a stranger waits at on your front step, you don't want them peeking into your house through an uncovered window or sheer curtain. When you have entry door sidelight window shutters, you are able tofully obstruct the view into your home's interior, maintaining your privacy. Of course, should you want to look out, a small tilt of the louvers will let you see outside.
Polywood® Shutters Provide Extraordinary Energy Savings
It's obvious that an open door could lead to energy loss, but you may not realize how much heat can transfer through your windows. Sidelight window shutters will help block heat loss. Our Polywood® plantation shutters are so capable of keeping the inside temperature in your house that they can even earn you an energy tax credit as well!
Interior Shutters For Sidelight Windows Are Better For Families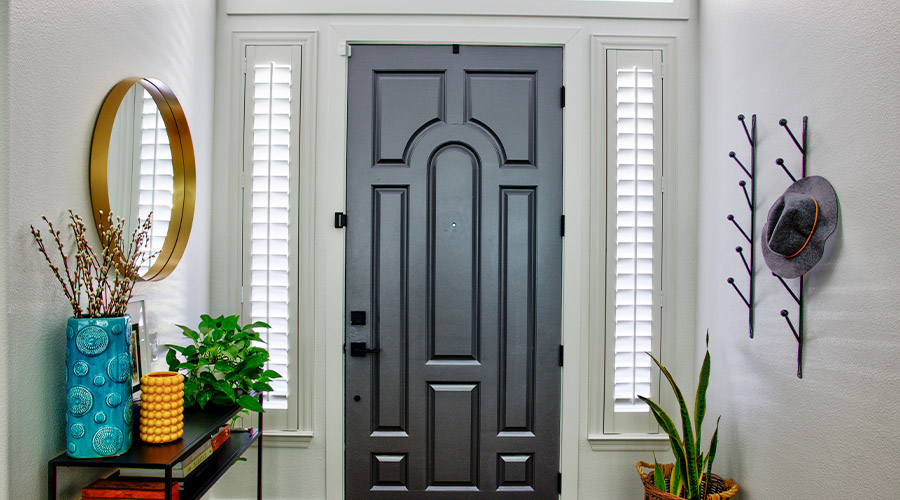 When a guest drives up your driveway, your children and pets are probably rushing to the front door to peer through the sidelights to see who it is. If you have flimsy blinds, they'll likely get jostled and possibly bent. Other window coverings can be pushed out of the way, leading to tiny pawprints or handprints on the pane. If you have plantation shutters for sidelight windows in San Jose, these problems won't occur. Rather, you'll have a solid, reliable solution that withstands mischievous young ones. And they still allow for a view outside when you adjust the louvers.
Sidelight Window Shutters In San Jose Fit All Shapes And Sizes Of Windows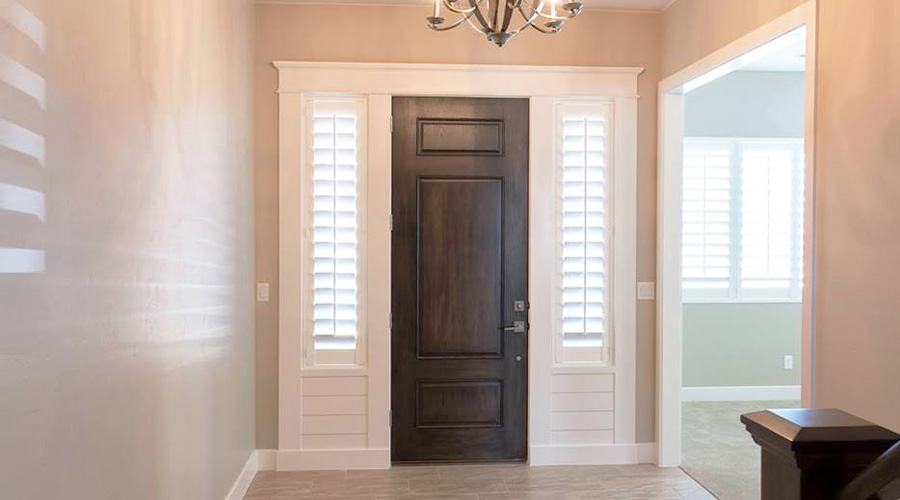 Shopping for drapes, blinds, or shades that fit correctly on sidelight windows is challenging. Sidelights normally don't follow standard sizing and may be slender or as wide as the door. A custom solution is your best choice, and that's precisely what you'll enjoy with sidelight window shutters in San Jose from Sunburst. Our multi-functional products are always made to fit the precise measurements of any window.
Enjoy A Stylish, Uniform Look In Your Doorway
When you match your sidelights and door, your home will have the advantage of a well-balanced and beautiful entrance. Luckily, Sunburst's sidelight window indoor shutters are available in various paint and stain hues to seamlessly coordinate with your particular interior.
You'll Always Have Room For Sidelight Window Shutters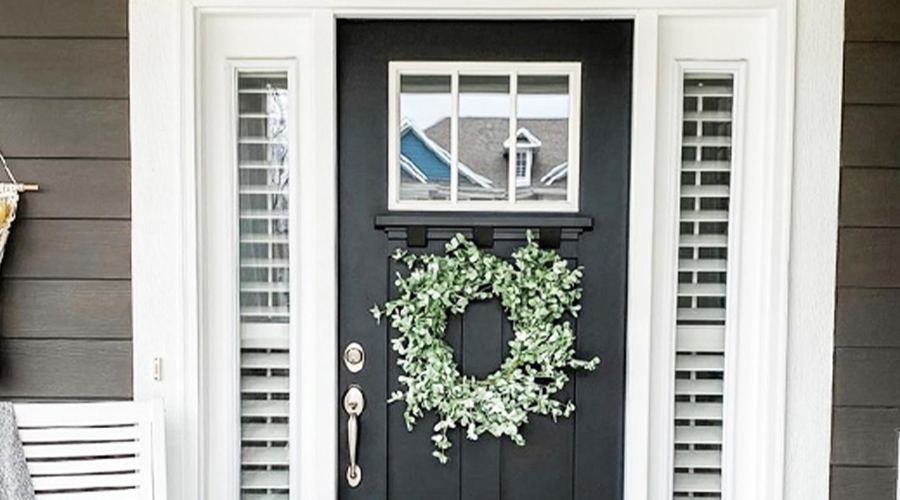 In some entryways, you may have little room around sidelights. If that sounds like your home, putting up a hanging treatment may not work. Luckily, our sidelight window shutters can be installed over or within the frame, so they can work and appear beautiful despite the surrounding space.
Our Sidelight Window Shutters Stay Still At All Times
One of the best things about our sidelight window shutters is that you don't have to wonder about them swaying, shifting or scraping against the glass. They always stay secure. Conversely, drapes, shades, and blinds can be caught up in the vacuum effect that happens when you use the door. They will often swing, shake, and might even get caught in the door.
Frequently Asked Questions About Sidelight Window Shutters In San Jose
Q: What types of shutters can go on sidelights?
A: Our Polywood® shutters, Ovation® natural wood shutters, Studio Shutters, and reclaimed wood shutters are all excellent for sidelights.
Q: Can shutters be put on the glass cutout in a door?
A: Absolutely! If you have a window cutout in your front door, we can include a custom shutter frame around it.
Q: Do sidelight window shutters have to include a tilt rod?
A: Not always. We have interior shutters with a "hidden" tilt rod, so the only parts you can see are those classic louvers.
Q: Can you customize plantation shutters for sidelight windows to match my door's color?
A: Yes! We can build shutters in various wood stains and paint colors. We can come up with a solution for virtually every door.
Learn More About Sidelight Window Plantation Shutters In San Jose
You can explore Sunburst's sidelight window interior shutters without leaving your San Jose home. Request a free consultation, and a knowledgeable window treatment pro will come to you! You'll get the chance to see how an assortment of window treatments look before making [a final decision. Dial 916-542-1305 today or submit our simple form to get started.