What Window Treatments To Choose For Your San Jose Custom-built Home
If you're making selections for a custom home in San Jose, you seek the best finishes possible, down to the window treatments. There's a reason plantation shutters are a leading choice in window treatments for custom homes in San Jose. Their versatility and beauty complement any interior and provide you complete command over the sun's light. With this in mind you can easily create a pleasant space and illuminate the unique elements of your custom-built home.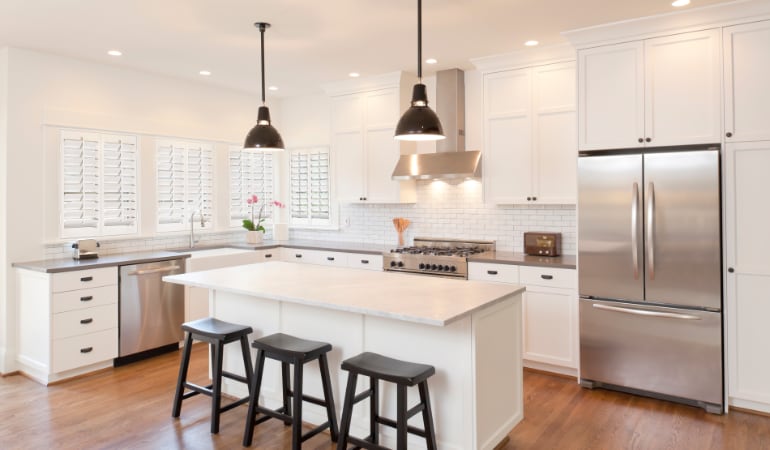 How Do Plantation Shutters Enhance a Custom Home?
If your goal is to increase the allure of your custom home, consider window treatments that residents in San Jose use to add to their home's style. Plantation shutters blend beautifully with all home designs. They stand out and catch the gaze of people who are more accustomed to outdated drapes and metal blinds. Their simple but elegant design needs nothing extra to create a stunning appearance and make a great first impression on guests.
Plantation shutters are a great window treatment choice for a custom home. The sharp design and adaptable color options incorporate easily with any style of home, so you can confidently advise the home builder to include them in any room without worrying about how they will match once you furnish your home.
Fully customizable, this window treatment works for regular windows and uniquely sized ones, so you have the ability to utilize them in any location and avoid the inconvenience of implementing numerous window treatment options. You will appreciate having a job removed from your list during the busy home design phase!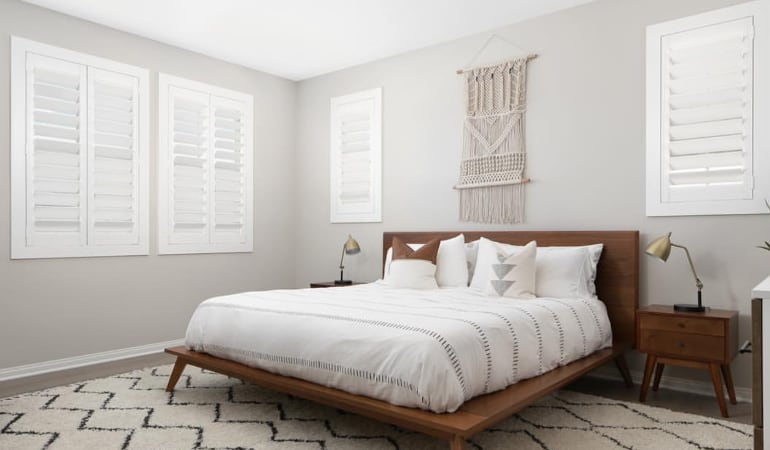 How Do Plantation Shutters Let Homeowners Control Light?
Everyone loves the look of a home filled with sunshine. Even though you're sure to have captivating electric lights to illuminate your custom home, the sun's rays have unique qualities that make a space appear bigger or change its overall feel.
Despite its many benefits, sunlight is constantly changing. As the day goes on, the quantity of light coming through your windows changes, and you must change the positioning of your window treatments to direct the sunlight appropriately. When trying to find window treatments for custom homes in San Jose, residents often choose faux wood Polywood® and solid wood plantation shutters that allow them to control the intensity of sunshine a room receives.
Gently move the tilting mechanism to change the angle of the louvers during hours when windows receive direct sunlight to provide a space a softer glow and increase the opening to brighten things up when the sun has shifted to a new location. You can even swing back the shutters at the hinges for full sunlight to generate an open air appearance and shut them again for a snug, closer-knit feeling.
Modifying the position of the slats also lets you to deflect light. When moving the shutter louvers in either direction, you can illuminate dark corners to make a room feel larger. You have the ability to filter excessive glare away from your guests' sightline and reflective surfaces without lowering the louvers and eliminating the light altogether. With a gentle movement, you can manage the placement and the amount of daylight that shines within your home for the comfort of your visitors.
Select The Right Window Treatments For Your San Jose Custom Home
Showcase your home in its full glory with the eye-catching style of plantation shutters by Sunburst Shutters. We are your source for elegant window treatments that San Jose residents love for their custom-built homes. Give us a call at 916-542-1305 or complete our simple form to get started with a free in-home consultation.