What Are The Different Types of Interior Shutters?
Indoor shutters can be constructed to cover different sizes and types of windows in your home. But not all indoor shutters are equal. There are a number of different kinds of shutter to to pick from, and different options within those styles with regards to construction, louver size, and beyond.
Let's take a look at the different choices available for interior shutters, and how each one can add to your space.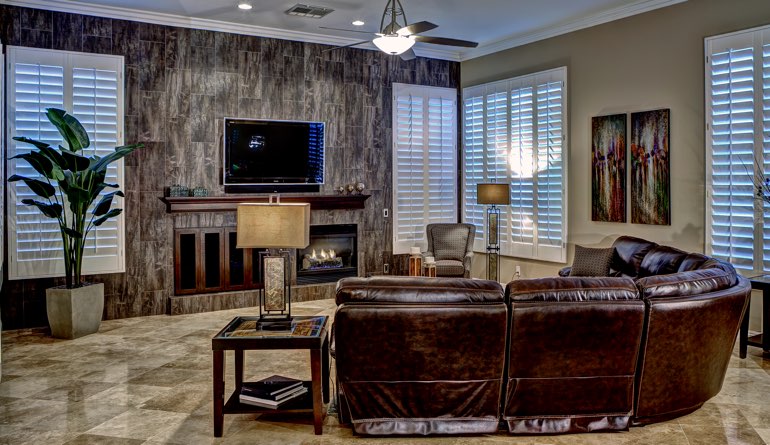 Photo credit: Jane Cunningham, Room Resolutions
Plantation shutters in San Jose
are the favored type of shutters because they allow in the light readily when open, block the most temperature when closed – and emanate beauty either way.
The wide louvers, or shutter slats, are one of the features that differentiate plantation shutters from other window treatments. You can choose louvers from 2.5" to 4.5" wide. The large louvers give you more view from your window and allow more light into your room. Connecting the louvers together, the stiles are the firm vertical pieces of the shutter panel, allowing for the movement of the louvers in unison.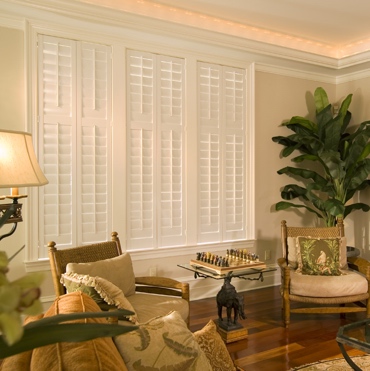 Engineered from a premium synthetic wood substitute,
Polywood shutters
won't crack, split, warp, or chip. The beautiful paint on these indoor shutters won't fade or change as they're exposed to sunlight because of our unmatched paint that's baked onto each shutter and infused with UV stabilizers.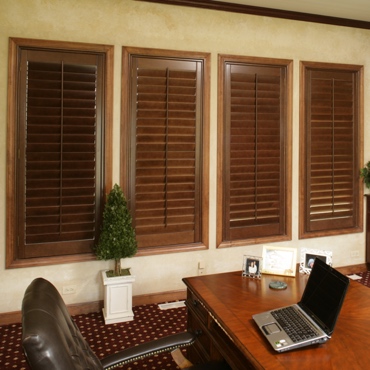 Ovation shutters
are built by hand with furniture-grade teak and are offered in an array of stains to match your existing furniture and decor.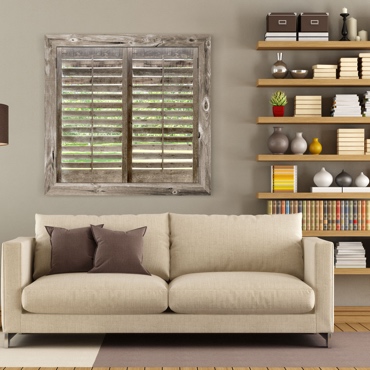 Reclaimed Wood shutters
are built from repurposed wood that was originally part of fences, barns and other structures. Every wood louver is unique, and together they form not only a functional shutter, but a unique work of art on your windows.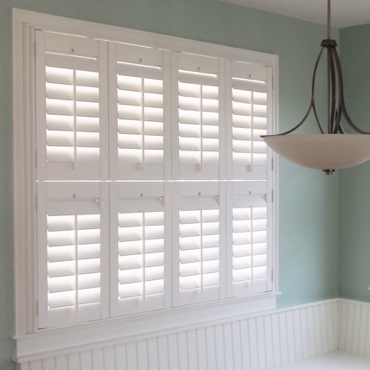 The most recent addition to the Sunburst family,
Studio Shutters
are a stripped-down plantation shutter that has the same classic look as our Polywood shutters. With a few less options than other plantation shutters, Studio shutters are a perfect option for homeowners who don't want to break the bank with their window treatments.
Traditional Colonial Shutters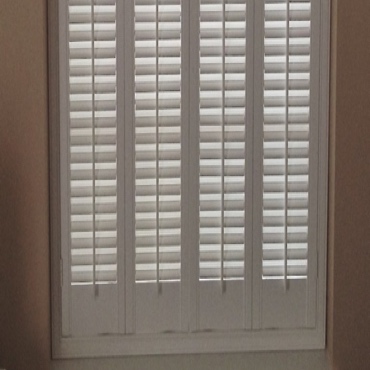 If you want smaller louvers and a traditional look, colonial shutters are an older option for San Jose.
Their louver sizes typically range from 0.75" to 1.25".
We won't hide the fact that plantation shutters are the preferred type of shutter in San Jose. If you're looking for shutters that showcase elegance and reduce your energy bills, louver size is key. Whereas colonial shutters are made with smaller louvers, Polywood and Ovation plantation shutters – which are built for beauty and energy efficiency – are your best choice. And note: larger louvers are easier to clean and adjust.
Are the differences in shutters a little bit clearer now? If you want any help with finding the best window treatment fit for your San Jose home, call Sunburst Shutters San Jose at
916-542-1305
for a free design consultation today.