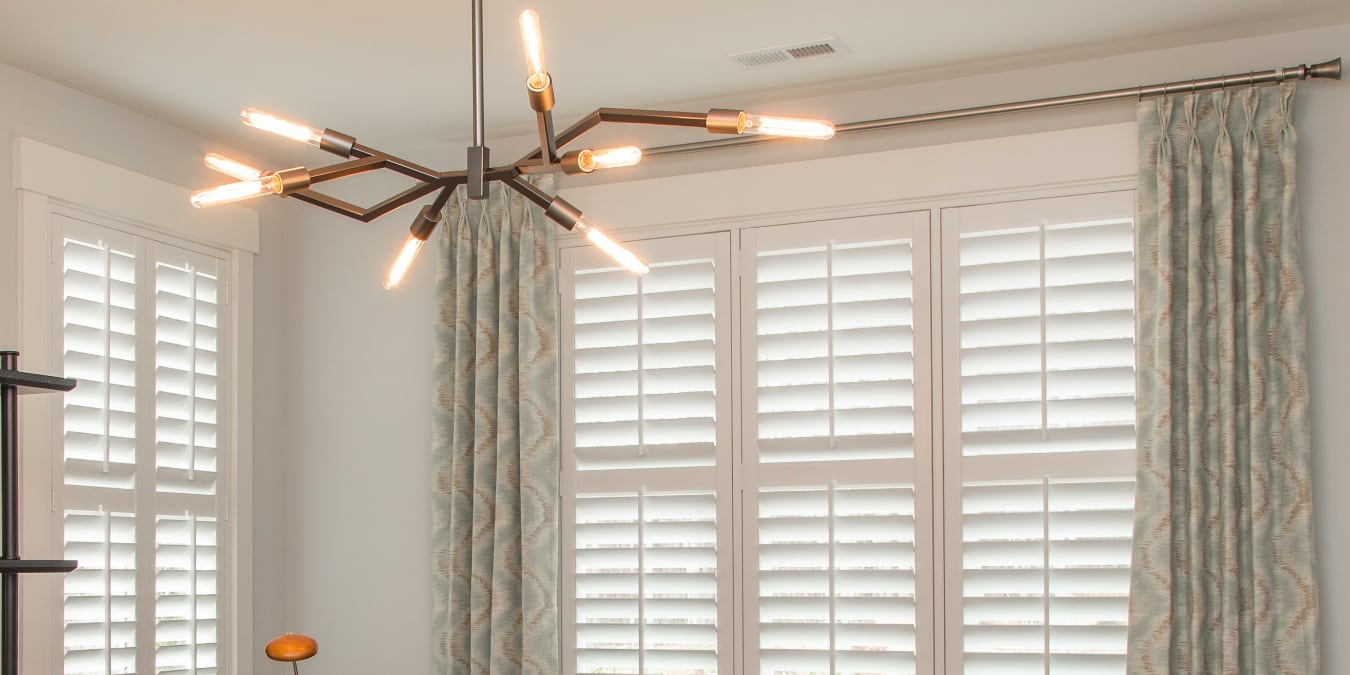 Home Office Window Treatments In San Jose That Work For You
If you are one of the many people working remotely these days, you likely need assistance in optimizing your San Jose home office. Start with your window treatments. Want to see a quick comparison of the different home office window treatments?
Check out our window treatments chart, for window treatments perfect for your home office.
Products like plantation shutters and motorized window shades are sensible home office window treatments for San Jose workers who want to create a comfortable and productive work environment without compromising your home's unique design. These treatments are even capable of helping you look more professional during video calls! Read how you can employ these window treatments to your advantage.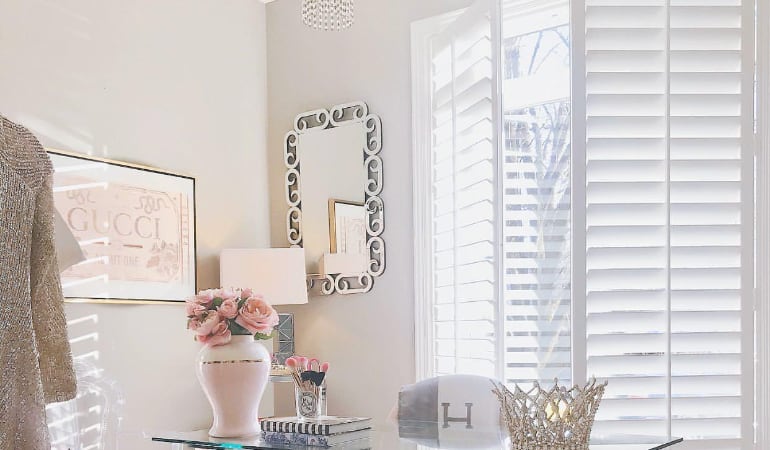 Plantation Shutters: Versatile Home Office Window Treatments In San Jose
Working remotely has its own set of challenges, so choose home office window treatments in San Jose that will make the workday more pleasant. The unique design of plantation shutters makes them a winning solution when you need to manage your workspace's lighting and comfort levels.
A benefit of working from home is that you get to control the temperature. Even so, you don't want to bump up your utility expenses by using your furnace or AC too much. Polywood shutters with insulating qualities can help. On a hot, sunny day, shut your plantation shutters to maintain a cooler home office and limit the glare on your display screens. In the winter, that insulating ability fights off those cool drafts.
Looking to reduce electric bills or hate lackluster lighting? Adjust the louvers on your Polywood shutters for sunlight that you can move away from your computer display and into other parts of your room. Close the slats back up to remove potential diversions like noises and passersby. Or shut your shutters for privacy at night if you end up working late.
If you're looking for pizzazz in your home office, the fine edges of plantation shutters create a dazzling architectural detail that enlivens even the most ordinary windows. They are available in a multitude of adaptable colors, too. Whether you select classic white plantation shutters or a warm-toned hardwood shutter, your upgraded home office window treatments will have you thrilled to be working from home!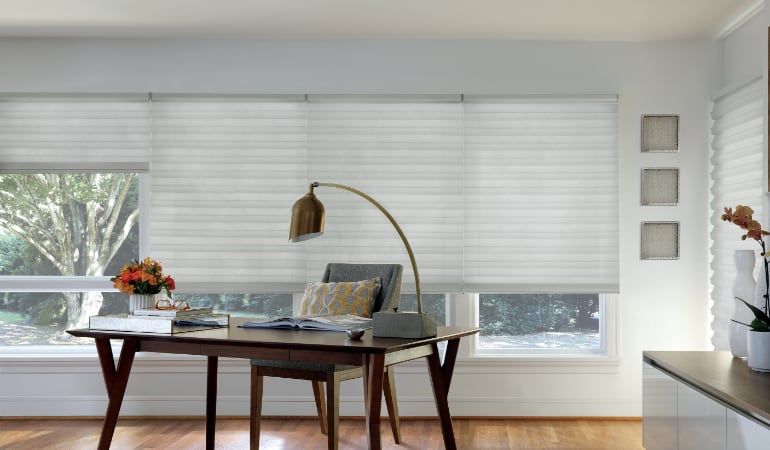 Motorized Window Shades Provide Variety And Convenience for San Jose Workers
Like interior shutters, a wide array of customizable shades deliver sunlight control and insulating capabilities for your work space. Light-suppressing blackout shades minimize sun glare. Energy-efficient cellular shades ward off those cold drafts and keep warm air in. Transitional shades allow you to pick between filtered natural light or no light at all.
Window shades also come a range of colors, textures, and materials to suit your tastes and create the ideal ambience for your work space. You might like a distinctive option like Roman shades that look great behind you during conference calls or something simple like roller shades to avoid distractions.
Once you know what type of window shade you wish to install, consider the motorized version to enhance your workspace further. Motorized window shades function with a remote controller instead of your hands. This offers more flexibility for adjusting the amount of light in your home office.
If the sun changes position and a glare interrupts your attention, you are able to shut your shades with a tap of the remote without moving from your chair. If too much light is making you look washed out on a video call, or you find your work space looks too dark on screen, you can close or open your motorized shades without getting up. Your boss and colleagues will be impressed with your work from home set-up when you improve your home office window treatments in San Jose.
Are You Still Trying To Figure out Which Window Treatments You Should Get For Your Home Office? We've Compiled This Chart To Help You Consider All Of The Options.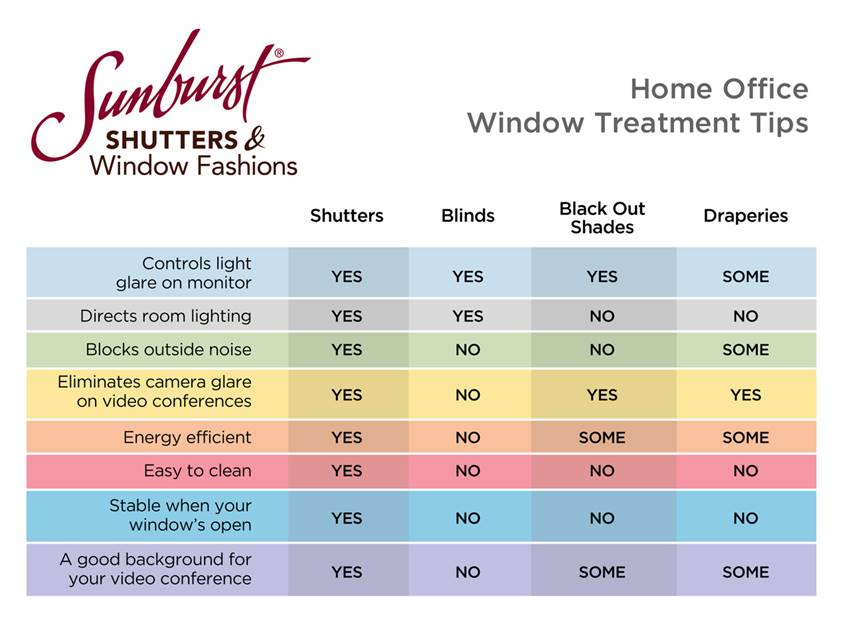 Get the Most Out Of Your San Jose Home Office with Window Treatments From Sunburst Shutters
You can get more done during the day when your window treatments enhance your comfort and your privacy. Speak with the window treatment specialists at Sunburst to find the right product for your home office. To schedule a complimentary in-home consultation, call us at 916-542-1305 or complete the form on this page.