2 Styles Of Patio Door Shutters For Your San Jose Home
Your patio door could be one of the most fashionable and interesting windows in your home, if you take care of it. A large part of doing so is choosing how to cover the patio door to protect your privacy and adjust the lighting in your home.
Far and away the most attractive and effective patio door window treatments are plantation shutters. And no matter if your patio door is a sliding door or french door, we can help you find a shutter style to accentuate your setup.
French Door Patio Shutters
Plantation shutters are superb for french patio doors because they're so versatile. For any type of french patio door you might have, Sunburst can build a set of plantation shutters to fit them.
Does just one door open, or both french doors? Are the door handles near the interior or the exterior of the doorframe? Do you want a buffer so that the doors don't swing open too far and hit your wall? Plantation shutters are what you need in any situation.
Don't forget their other numerous benefits. Shutters give you complete light control, compared to drapes or blinds that only give you: open or closed. Shutters also outlive any other window treatment, and can survive just as long as your french patio do. Shutters are also installed right onto your doors, so they won't sway wildly when you open your doors. And with our patented faux wood Polywood® plantation shutters, you'll get best in class energy efficiency, and that's especially important with how much your patio doors can contribute to your home's temperature.
Sliding Patio Door Shutters
Similar to San Jose french doors, sliding glass patio doors can vary, and it can get somewhat tricky to find a window treatment that works with how your doors slide. Fortunately, interior shutters are custom-made to fit your sliding patio doors without a hitch. Sliding door shutters will fall under one of two types: bypass or bifold.
Bypass Sliding Patio Door Shutters
A bypass sliding door shutter has panels that slide over one another, similar to the sliding door itself.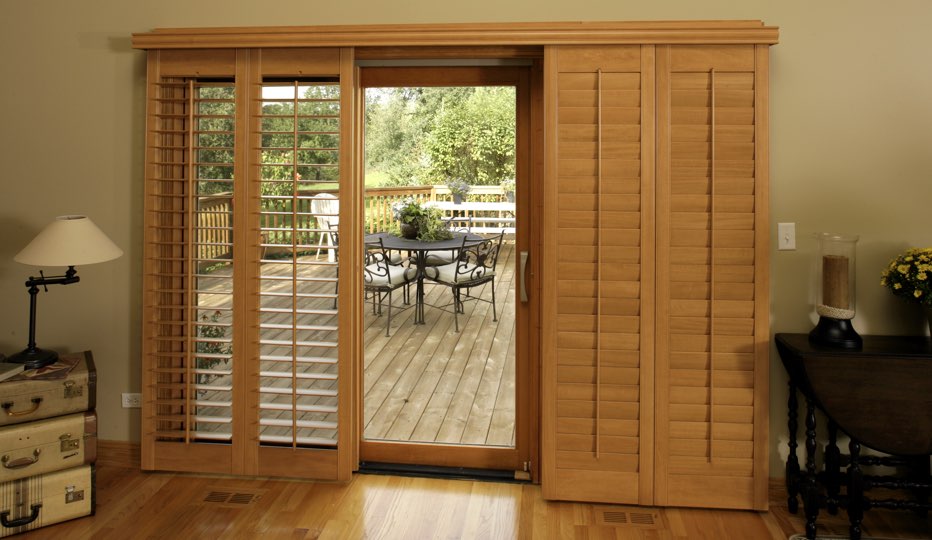 One of the biggest benefits of bypass patio shutters is that you don't have to sacrifice control over your lighting when you want privacy like you would with other window treatments. You can open the shutter louvers to a certain angle, without letting the outside world get an open view of the inside of your home.
Bypass shutters for the most part are made with fewer shutter panels than bifold shutters, resulting in a a modern and clean look to your patio door.
Bifold Sliding Patio Door Shutters
Like their name implies, bifold sliding door shutters fold and collapse into themselves and can move away from your patio door. While not as widely seen as bypass shutters, bifold shutters give you more shutter panels, giving you more effective light control since you have access to more individual louvers to adjust.
Patio Door Shutter FAQs
How do I decide if I want bypass or bifold shutters for my patio door?
It usually depends on the the space around your sliding glass door. Your Sunburst Shutters professionals can help you determine what will work best for your home.
Do I have enough room on my sliding door to put in shutters?
In almost every single case, yes, you'll have enough space. That's because there are a wide array of mounting and shutter frame configurations that can fit various types of sliding patio doors.
My french doors open in different directions – is that an issue for shutters?
As with sliding door shutters, french door shutters are built to your door's exact specifications. Sunburst Shutters San Jose can help build you a mount and frame that will let your patio doors open fully.
Can shutters stack away from my glass patio door so I can get a full view?
They certainly can!
Will my door handle get in the way of installing shutters?
No, the Sunburst team is able to build shutters with cut-outs which make room for your door handle.
Do I need to cover my transom if I put shutters on my patio door?
Only if you want to cover the transom. The beauty of shutters is in how customizable they are.
Are shutters durable enough to survive pets scratching at the door?
There's no window treatment that can completely get rid of scratch marks. But for unrivaled strength and durability, you may want to look at Polywood plantation shutters.
Do patio door shutters help protect my furniture and carpet from fading?
Yes! With the unmatched light control offered by shutters comes the ultimate in UV protection. Your furniture, carpet, photos on the wall and more will be guarded from harsh UV rays.
When putting in patio door shutters, will you have to screw anything into my floor?
No way – all of our patio door shutters adhere to either the door frame itself or the wall around the door, depending on the style you go with.
Will bypass shutters on my patio door sway in the wind when I leave the door open?
Not a chance. Plantation shutters on a sliding patio door are heavy enough, sturdy enough, and constructed solidly enough that they won't ever sway in the breeze, even if the door is wide open.
Get Your Patio Doors Looking Beautiful
Are you ready to treat your patio doors like the fantastic home features they are? If so, Sunburst Shutters San Jose wants to help. Get in touch with Sunburst by calling 916-542-1305 today or just use the contact form below. We'll be in touch to set up a free consultation.